Comparative
Which mattress for which sleeper?
Are you looking for a soft, firm or balanced mattress? It is important to take into account your morphology, your pathologies and your need for comfort to choose the mattress that will take pride of place in your bedroom for the next 10 years. Use this table to guide your choice!
Small to medium morphology
Small to medium morphology
Pocket spring composition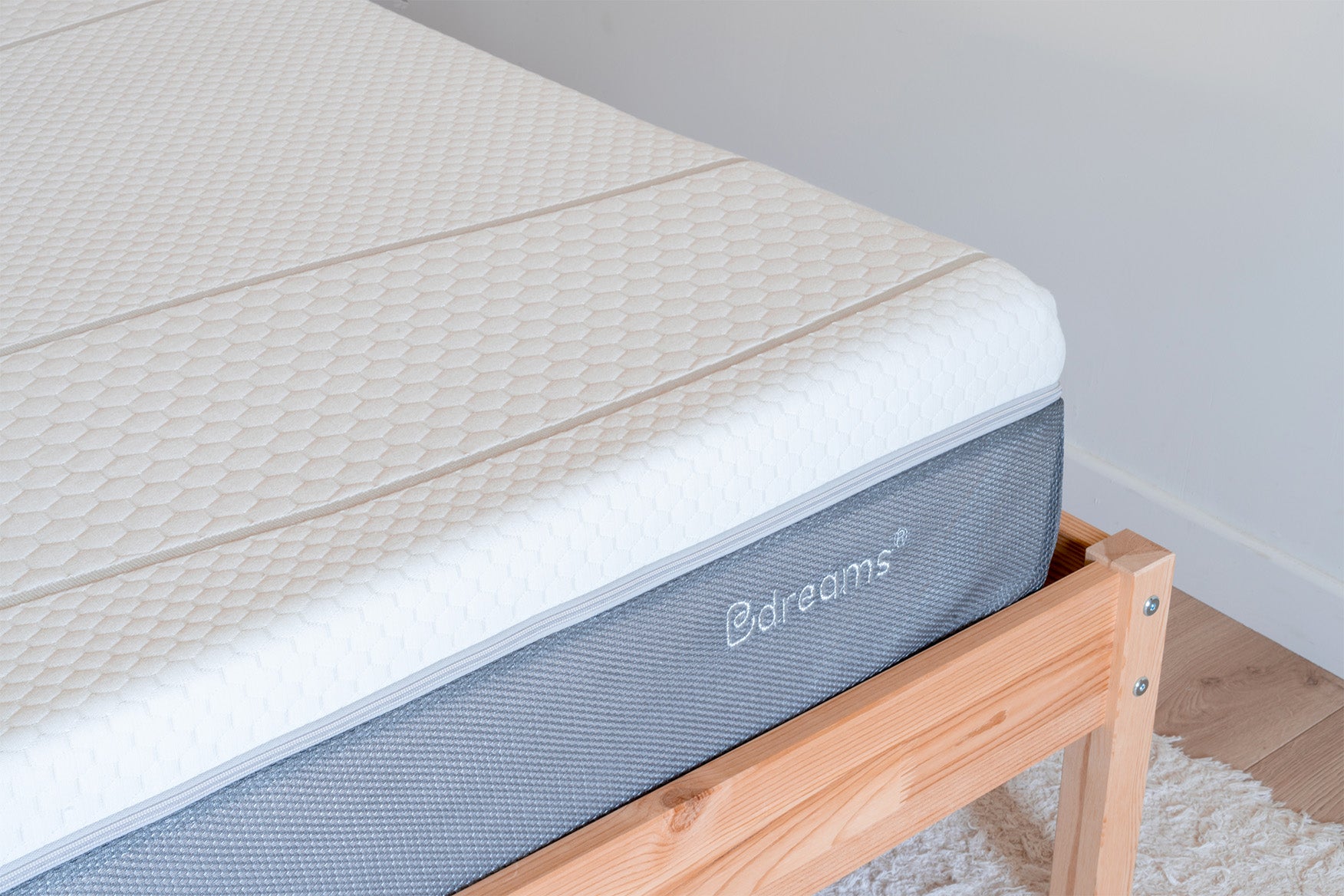 Le King Size XL
Acquérir un matelas 200x200cm présente de nombreux avantages :
Adapté aux personnes ayant une forte corpulence
Convient aux dormeurs qui bougent
Permet de ne pas gêner son conjoint
Permet d'avoir un espace conséquent pour dormir
Possibilité d'accueillir enfants et animaux sans entraver le confort
Which foam mattress to choose?

These mattresses can be made of 3 different types of foam. Polyether foam is the most economical, but also the least dense, below 30 kg/m3. Polyether foam falls into the category of mattresses for temporary use, such as mattresses for babies or children. Polyurethane foam offers better performance, with a density varying between 25 and 60 kg/m3.

If you choose a polyurethane foam mattress , a high density is often a guarantee of quality. The density of the foam influences the resistance of the mattress to pressure and its ability to keep its original shape. The Energik is the high resilience foam mattress model by Bdreams .

Memory foam is the newer version. Its viscoelastic foam deforms to gradually mold itself around your body. You will appreciate the sleeping independence provided by Bdreams memory foam mattresses: the Universal mattress and the Osmoz mattress.
Which spring mattress to choose?

If you prefer a mattress with more support and a slightly plump appearance, pocket spring mattresses will be recommended.

At Bdreams we have 2 mattresses made up of a block of pocket springs which provide firmness and support throughout the night. The Essential mattress is made up of a base of 775 pocket springs (160x200 model), and a top quilted with high-resilience flexible polyurethane foam with a density of 25kg/m3. Its comfort can be either soft or firm depending on the tension of the spring block. Its comfort is simple and effective. It will be ideal with a mattress topper for sleepers who wish to find the comfort of the hotel.

Our second mattress, the Cosmos , is a hybrid , it is the most premium Bdreams mattress . Composed of the same firm block of pocket springs, it has a more complex and worked welcome. With a total thickness of 6cm, the reception of the mattress is composed of a 2cm viscoelastic foam (shape memory) and 4cm of high resilience flexible polyurethane foam with a density of 25kg/m3. This particularity gives it delicacy and suppleness so that your shoulders and hips can wrap themselves like in a cloud. They lighten everything by absorbing the pressure of the body.

Note that these 2 mattresses benefit from optimal and continuous ventilation but do not have a removable cover.
What are the different mattress sizes?

Among single mattresses , the standard model is the 90x190 mattress . There is also a long version, the 90x200 mattress , designed for tall people (1.80 cm). In single, you will also find the 80x190 mattress or the 80x200 mattress . The 80x190 mattress is generally designed for duo beds . The 80x200 mattress , meanwhile, can be used in a small bedroom or as an extra bed.

The 140x190 mattress and the 140x200 mattress are the standard dimensions for the double bed. The size above is the 160x200 or Queen size mattress, followed by the 180x200 King size mattress . Mattresses larger than King size are considered "non-standard". These are the 200x200 mattress in King size XL - or Emperor size - and the 240x240 mattress . The larger the mattress, the rarer it is to find and this also applies to its bedding.

Remember to equip your mattress with a Bdreams mattress topper to protect it from wear and tear. This accessory is also used to improve the reception and sleeping independence of your mattress.
What is the lifespan of a Bdreams mattress?

The lifespan of a mattress depends on the use made of it, the care taken to protect the mattress over time. It can be said that a Bdreams mattress will be effective for a period between 10 to 12 years of use.

Example: a hard mattress will remain hard almost all its life, the comfort will not change however the bacteria, dust mites, form inside the mattress. The bed base will do that part of the job but over time replacement is mandatory.

We are available by phone 0760202808 or chat Monday to Friday from 9:00 a.m. to 6:00 p.m.