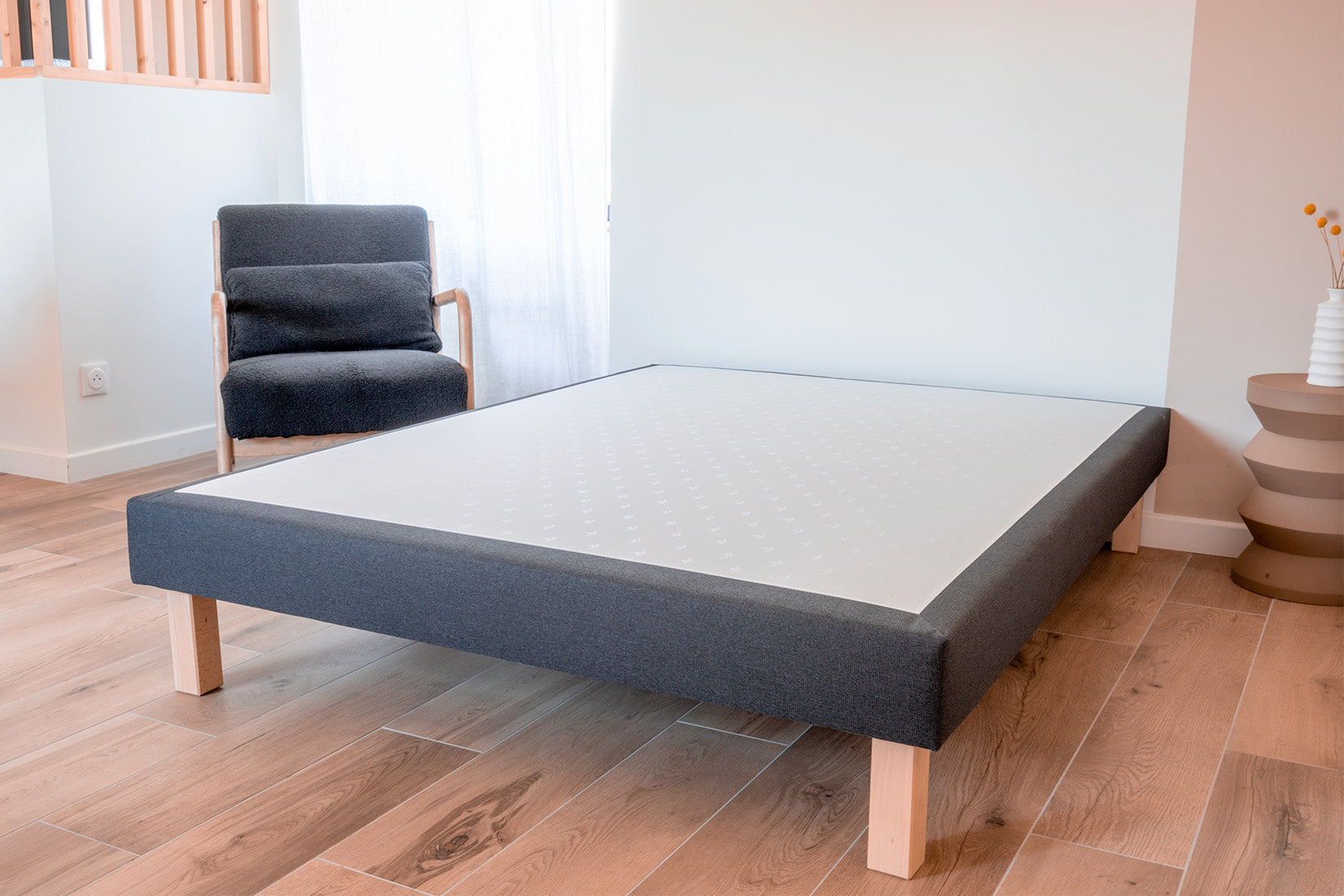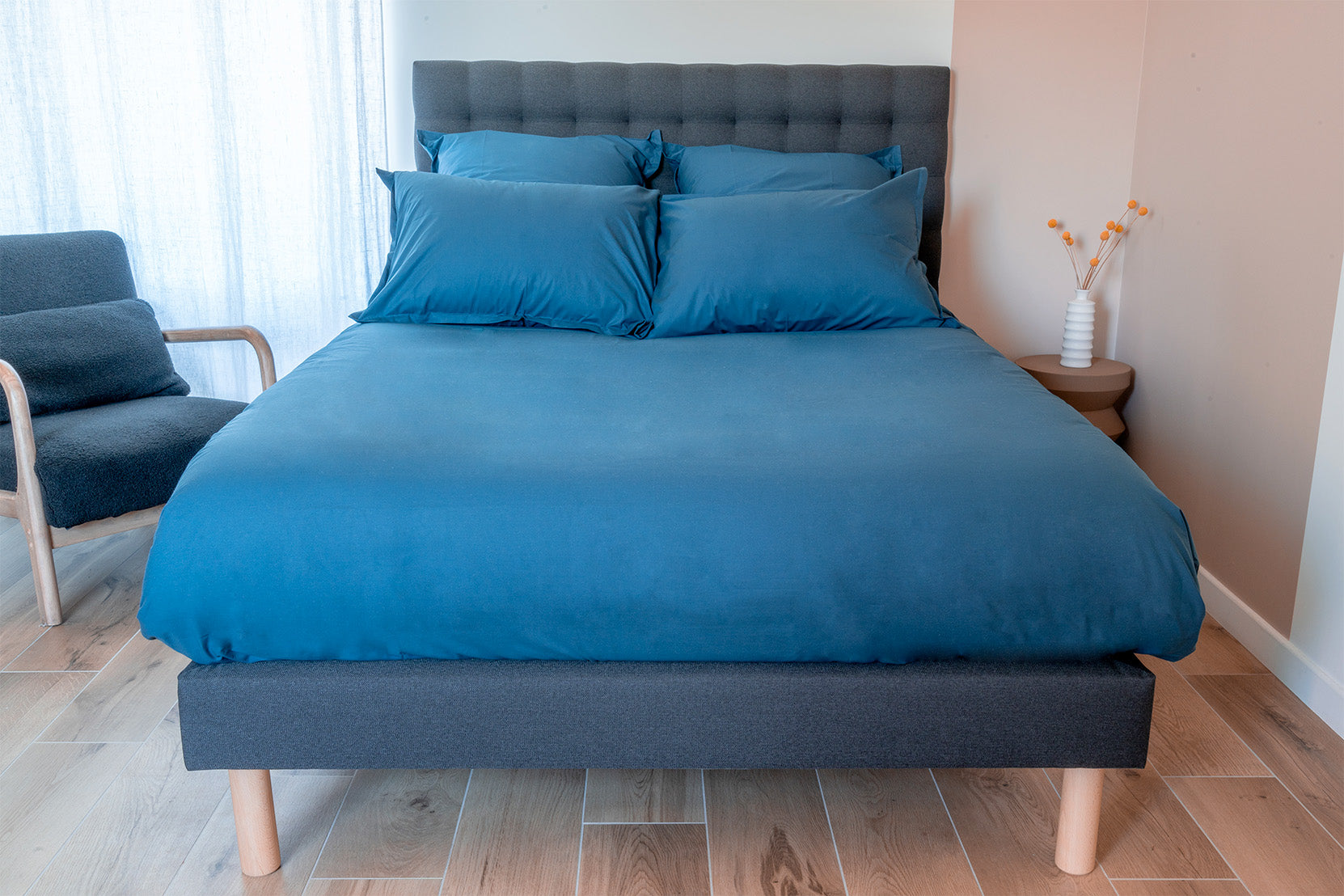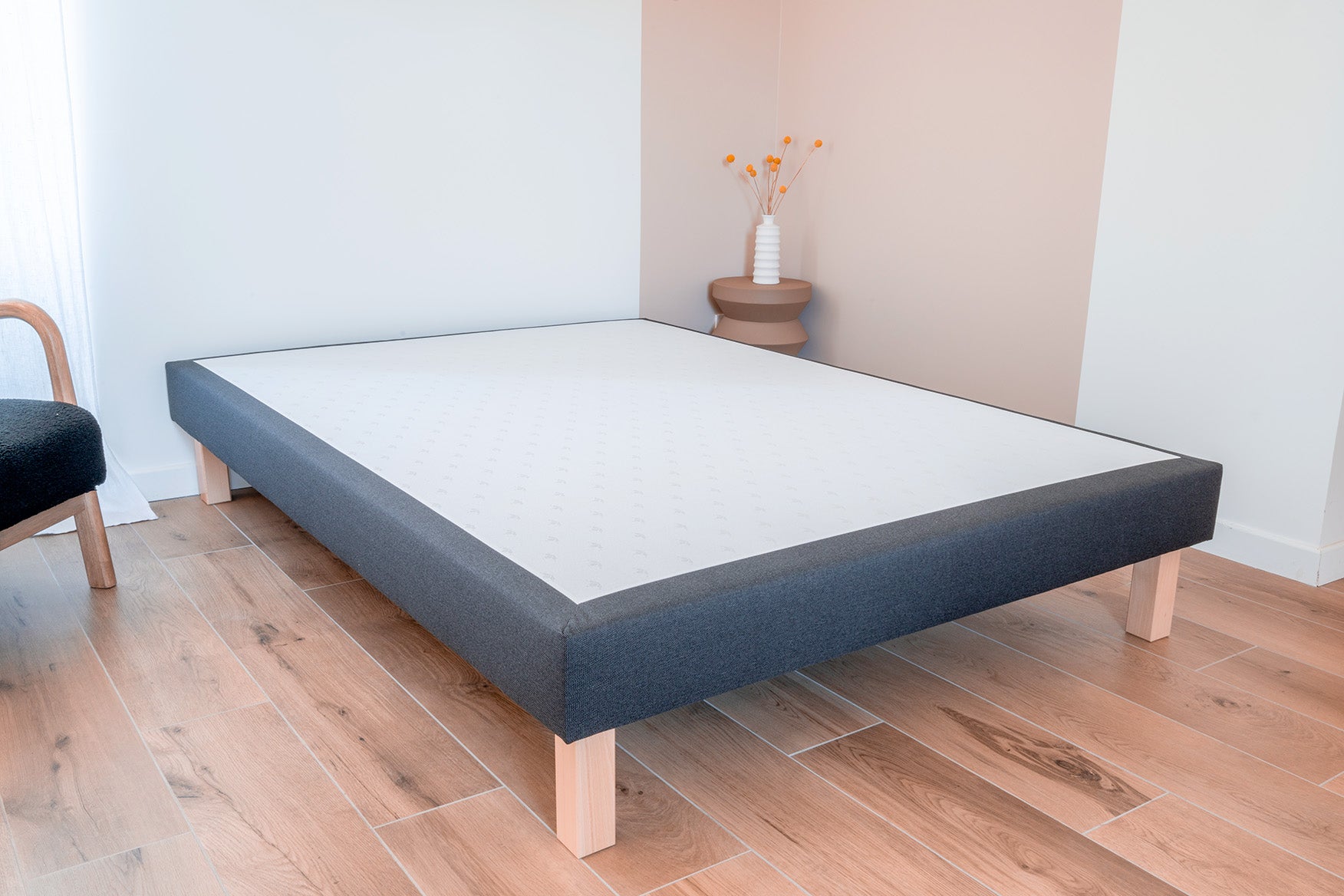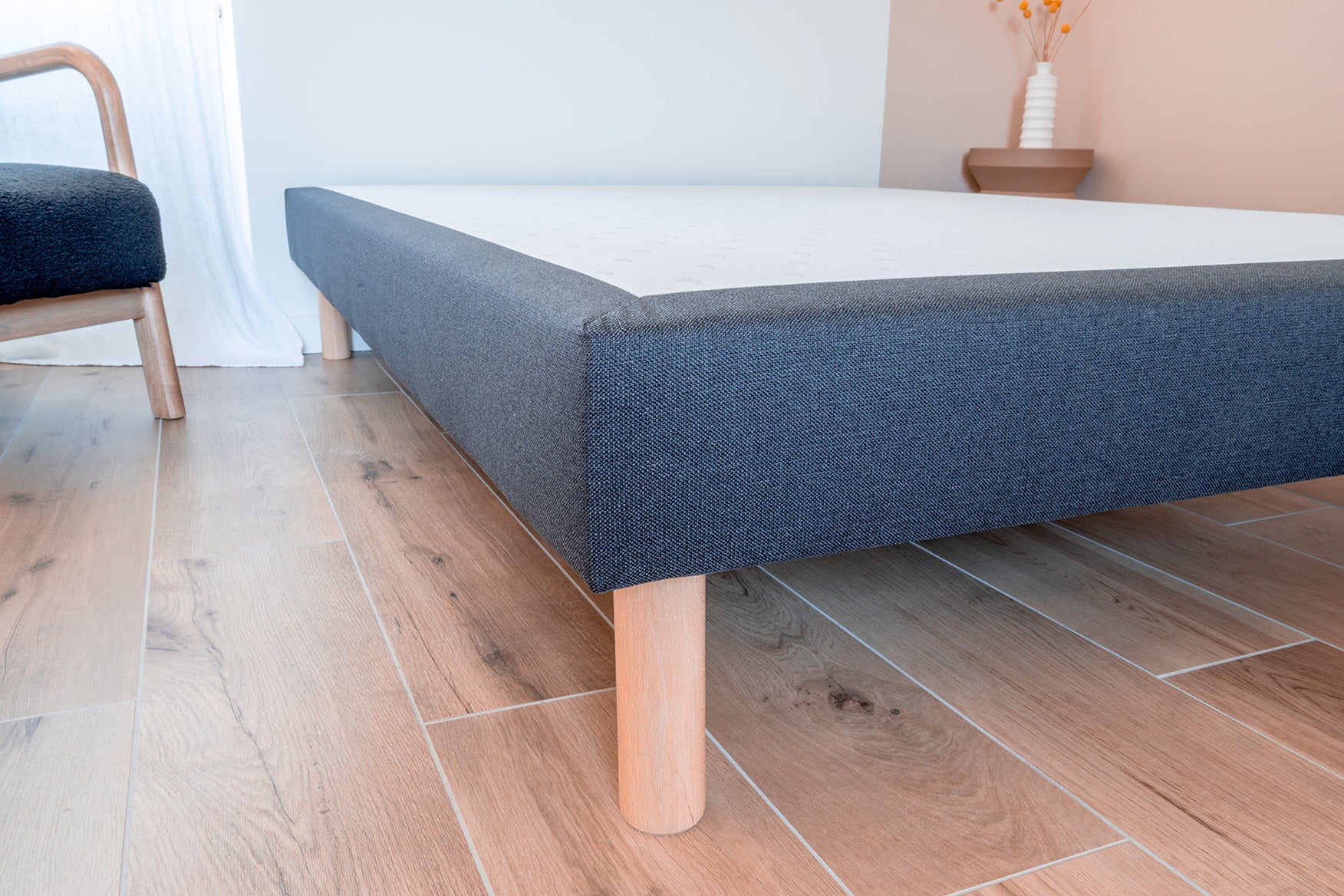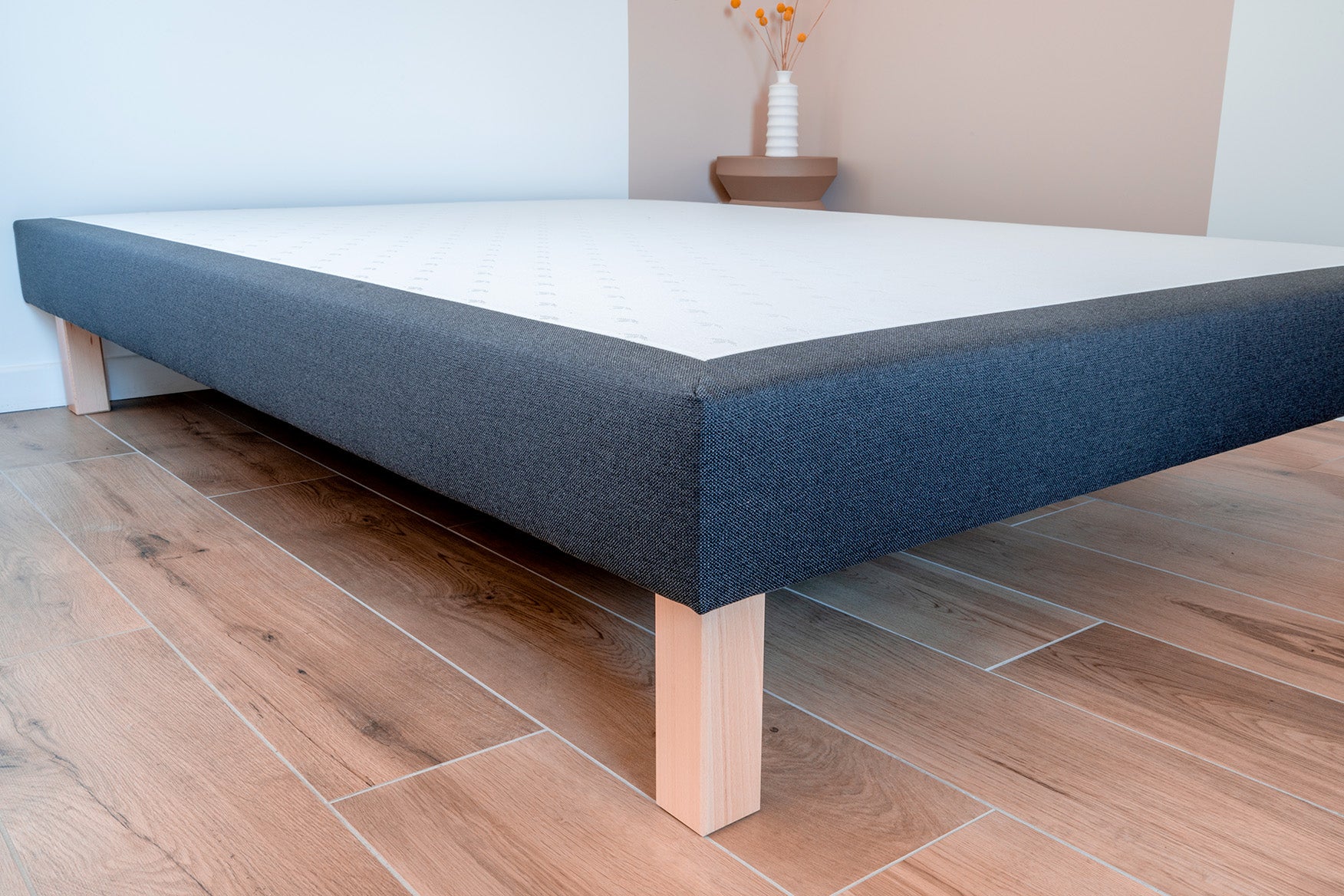 Box spring Igor
Our "Igor" box spring is as robust as it is elegant!

This box spring offers superior sleeping comfort thanks to its firm, stable support. It is made in France from high-quality materials that guarantee its long-term durability. The "Igor" is designed to fit all types of mattress, whether innerspring, memory foam or latex.

A bed that offers excellent quality at an affordable price, making it an ideal choice!

Only available in anthracite grey. Also available with a matching headboard.

Supplied with 4 varnished beechwood legs with a standard height of 20cm. Available in Cylinder or Square, they can be screwed on yourself in just 5 seconds!
The Igor bed base fits all Bdreams mattresses!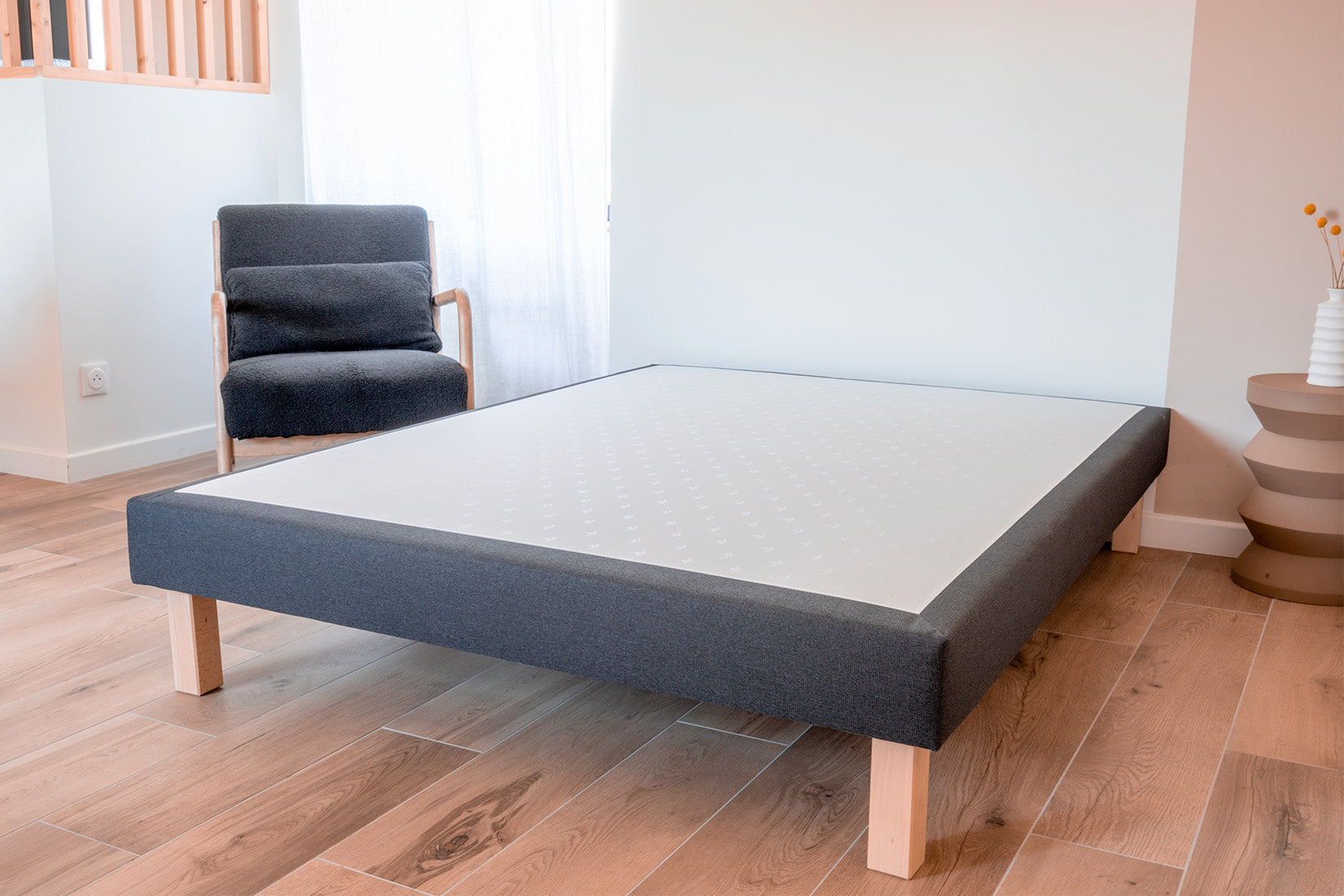 For further
The Igor bed base, made in France, is the first bed base in the Bdreams product range. It goes perfectly with the padded headboard made from the same fabric, ideal for an upscale bedroom! It completes the offer of mattresses , mattress toppers and bed linen , our objective: to meet all your needs!
I can't find the 180x200 or 200x200 size, is that normal?

This is normal, for a box spring when the size of your bedding exceeds the dimension 160x200 , available in monobloc, for a practical aspect it is necessary to start with a bibloc base. Indeed, for more solidity and better lift we recommend, for large sizes, to switch to a bibloc. Also, the box spring must be able to pass in a staircase, if it is too narrow it will not pass, think of it also for a 160x200.

For a 160x200 mattress , if your staircase is too narrow, you will need to buy 2 blocks of 80x200.

For a 180x200 mattress you will need to buy 2 blocks of 90x200.

For a 200x200 mattress you will need to buy 2 blocks of 100x200.
What mattress does it fit?

The box spring is an important element for your mattress.

Its primary purpose is to ventilate and maintain your mattress. Ventilation is essential for better breathability of your bedding so it preserves your mattress. A box spring is an important element to maintain your bedding and will allow a better life of your mattress.

The box spring is designed to fit all types of mattresses, whether they are spring mattresses, memory foam mattresses or latex mattresses.

The lifespan of a box spring is on average 10 years.

Bdreams® mattresses adapt to all types of bed bases, including the Igor bed base.
What are its dimensions and weight?

The Igor bed base has 4 feet of 20cm in height, the design, square or cylinder, is your choice.

All sizes:

bed base 80x200 = 16.8kg
bed base 90x190 = 17.5kg
bed base 90x200 = 17.7kg
box spring 100x200 = 21kg
box spring 140x190 = 24kg
box spring 140x200 = 25kg
box spring 160x200 = 26kg

The weight indicates box spring + packaging.

Remember to choose your box spring of the same size as your mattress!

Delivery is free and express to your doorstep.
How many years is it guaranteed?

With the purchase of your Bdreams® bed base, you automatically benefit from a 5-year guarantee covering any material or manufacturing defect.

This warranty takes effect from the date of delivery.

The products sold are also covered by a commercial guarantee aimed at guaranteeing their conformity and ensuring the reimbursement of the purchase price, the replacement or repair of the goods. It does not cover defects caused by abnormal or faulty use or resulting from a cause unrelated to the intrinsic qualities of the products.

For more information, go to the general conditions of sale.
How is the return if it does not suit me during the trial?

We suggest that you be able to try out the bed base for 14 nights from the date of delivery. If the box spring is still not suitable for you after 14 days, we offer you the possibility of returning it.

You will be refunded in full within 24/48 hours after receipt of the product in good condition.

Don't worry about anything and make the most of your bedding !

For more information, visit the FAQ page .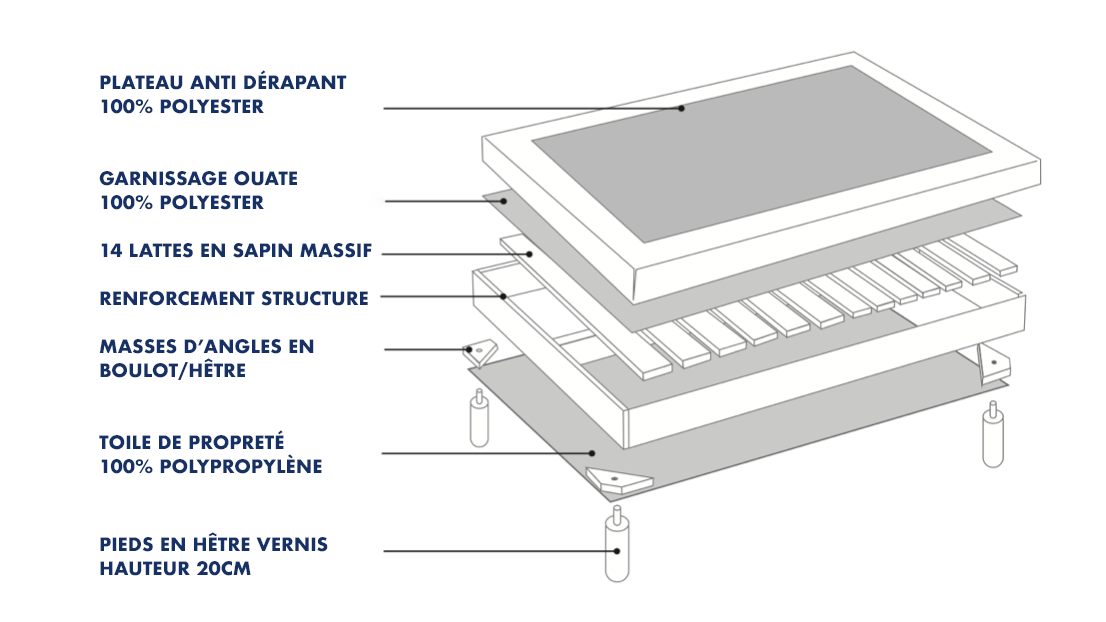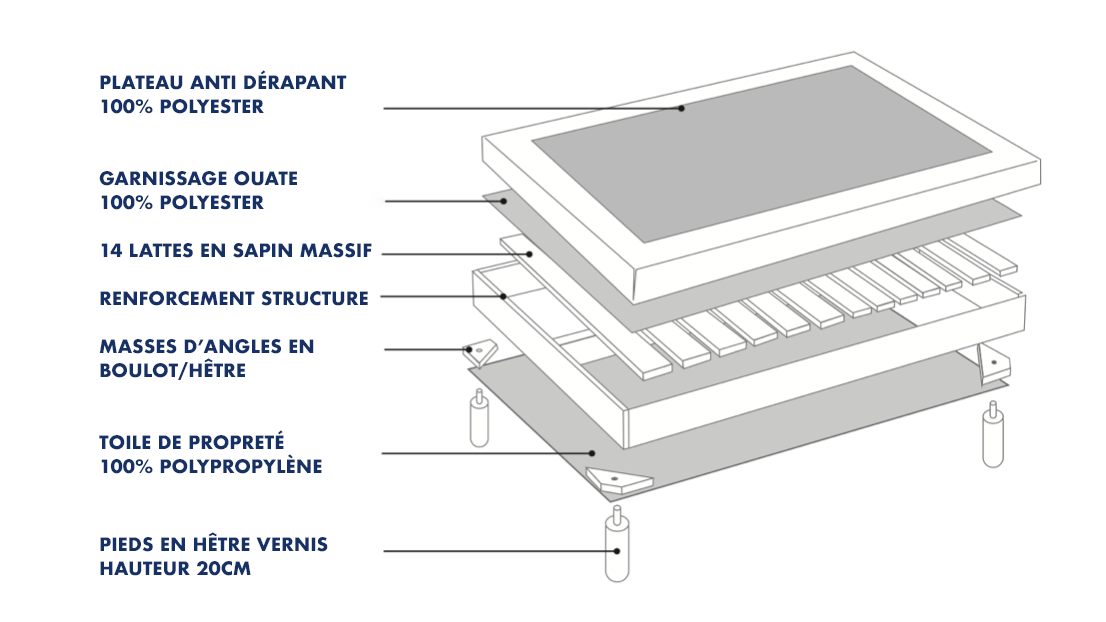 This product has no reviews yet.