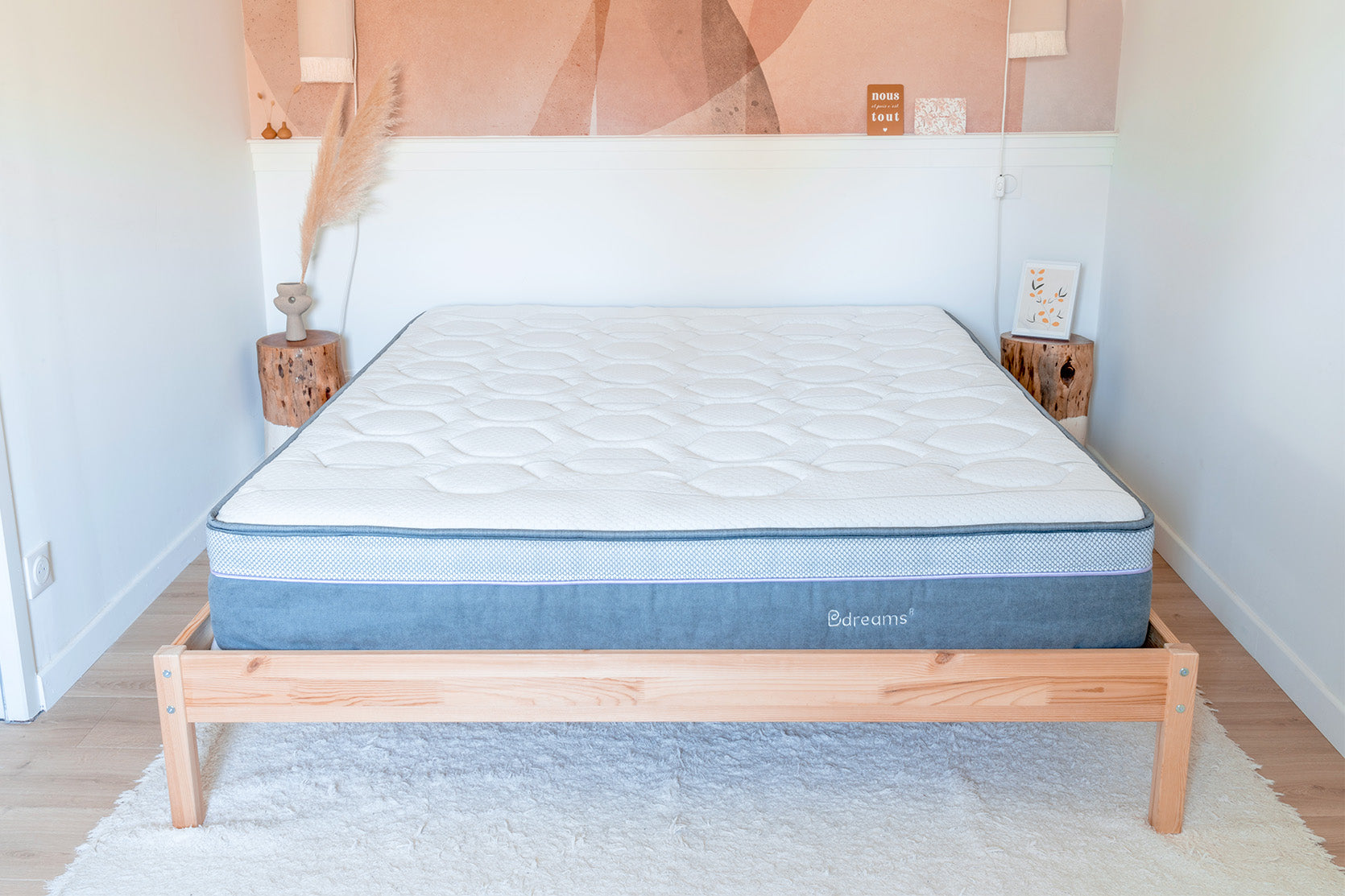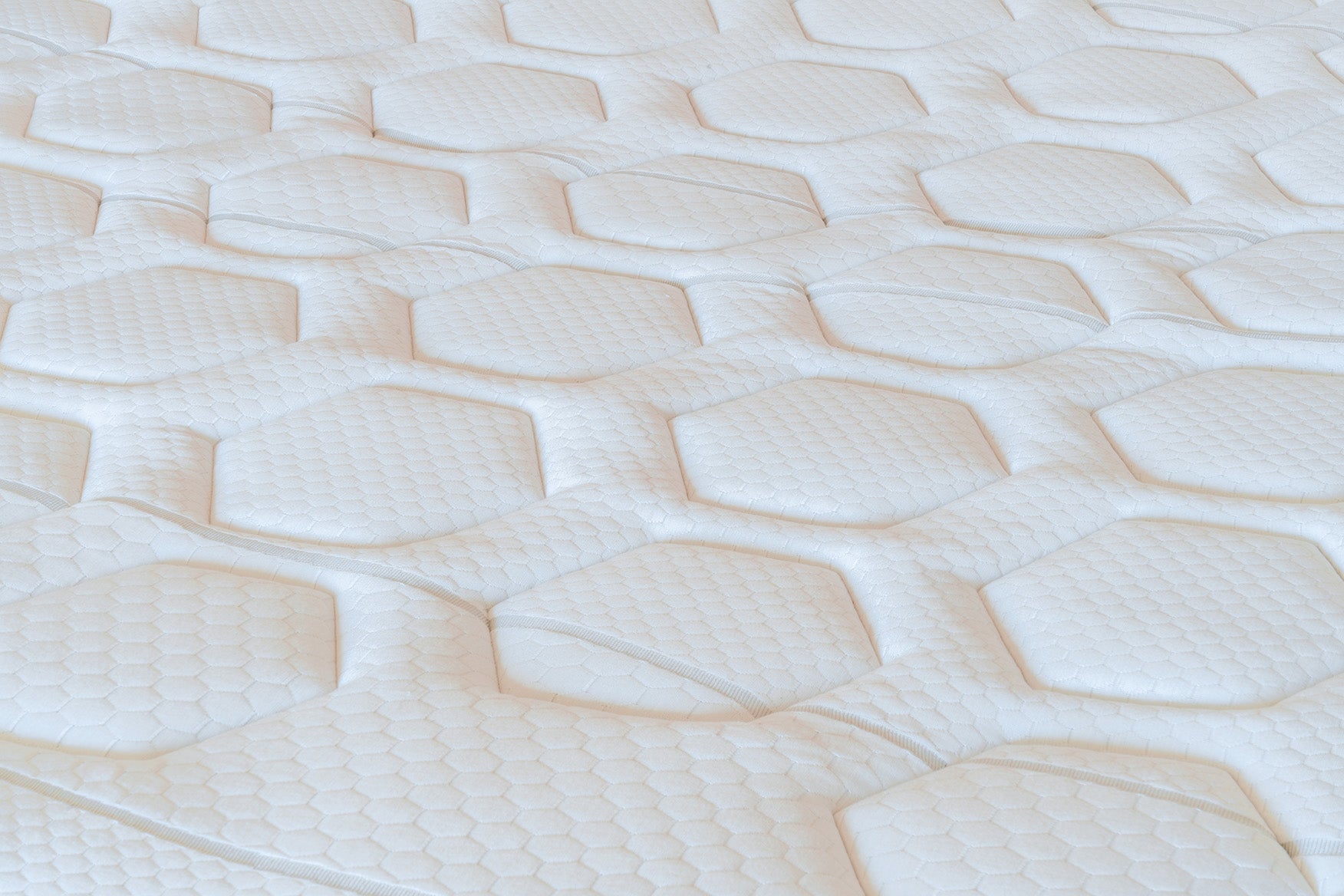 Essential pocket spring mattress
The Essential pocket spring mattress is opting for a mattress with balanced and bouncy comfort.
The reception of the mattress, in foam, flexible and elastic is ideal to reduce the weight of your body.
The pocket coil base provides firm support and optimal air circulation so you'll never be hot at night again! A very light bounce lulls your body into a deep, restorative sleep.

The flower bed on the periphery, like the underside of the mattress, receives an ultra-breathable fabric for continuous ventilation.
For even more softness, it will be ideal to pair it with a comfort mattress topper from the Bdreams range.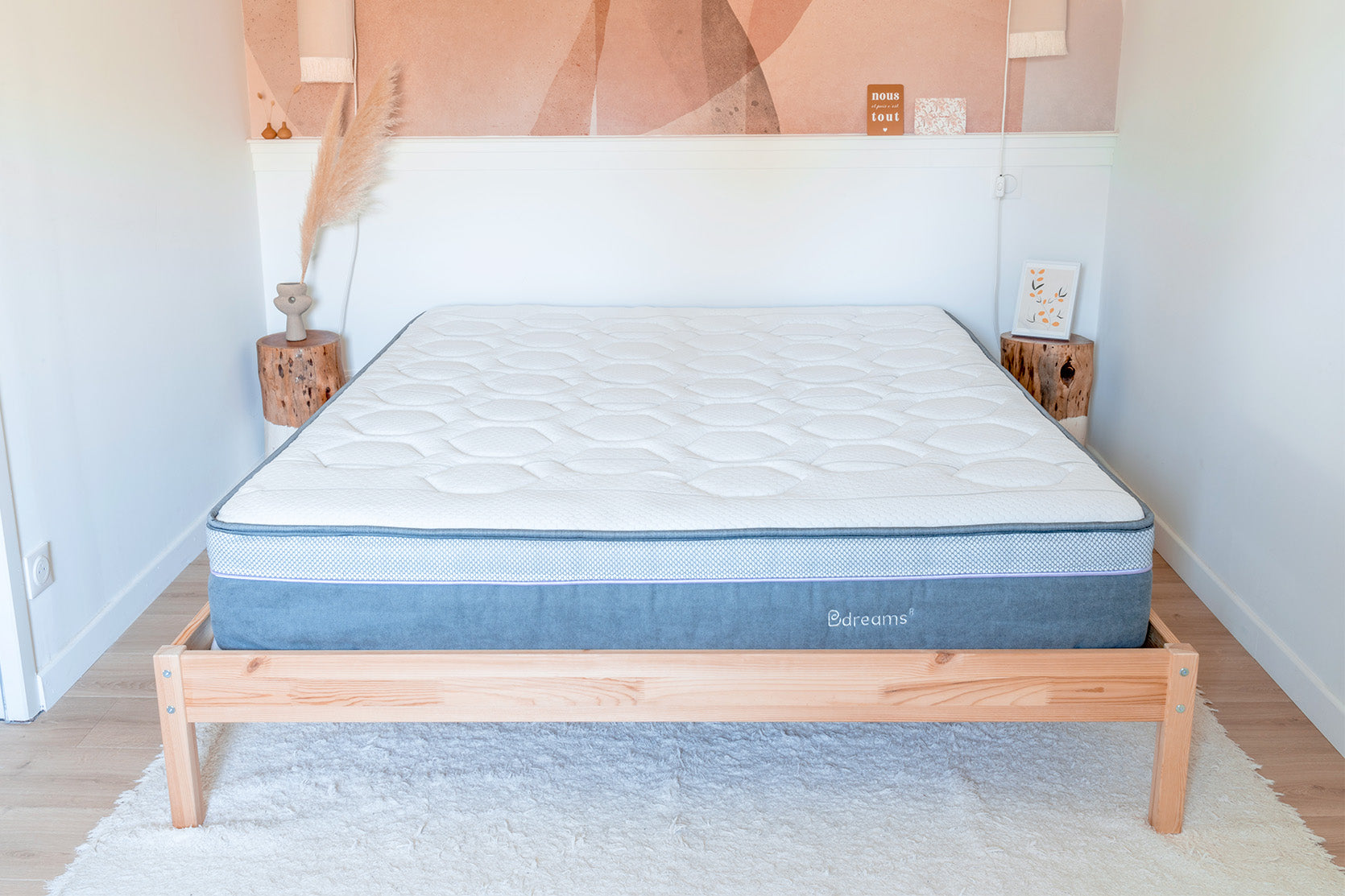 For further
The Essentiel mattress was designed by our team and designed in Spain with our long-standing partner manufacturer. It completes our range of mattresses, a reduced range made up of mattresses that meet the needs and morphologies of each sleeper.
What is the composition of the Essential?

The Essential mattress is made up of a quilted 4cm high resilience foam top and a white stretch fabric, then a core of 775 pocket springs (160x200 model) for a total thickness of 25cm.

The reception of the Essential mattress consists of 4cm of high resilience flexible polyurethane foam with a density of 25kg/m3, stitched into the surface of the mattress.

Its 18cm high pocket spring core is made up of high-strength steel springs, the shape of the springs provides progressive comfort, for excellent support. The edges are reinforced for a stable footing. To reinforce the support of the springs, the block is surrounded by 2 thin high resilience foams with a total thickness of 3cm.

On the central part of the mattress, the 3D fabric is there to provide better breathability of the foam. The lower part of the mattress is made of an ultra-breathable fabric for continuous ventilation, it is also effective for a good grip on the bed base.
Which bed base does it fit?

The box spring is an important element for your mattress.

Its primary purpose is to ventilate and maintain your mattress. Ventilation is essential for better breathability of your bedding so it preserves your mattress. A box spring is an important element to maintain your bedding and will allow a better life of your mattress.

There are different types of box springs:

The slatted frame (the least expensive) metal frame with wooden slats.
The box spring (the most popular) in wood (beech or fir) more solid with thick slats. Covered with a fabric of the customer's choice, it also incorporates a gripping surface for the mattress and a non-woven fabric (bonded fibres) so that dust cannot enter the bed base.
The spring bed base and the electric bed base, both specific in their uses.

The lifespan of a box spring is on average 10 years, so it is important to check its condition when buying a new mattress.

Thanks to their thickness, Bdreams® mattresses naturally benefit from support, so they adapt to all types of bed bases. (Prefer the box spring).
What are the dimensions and weight?

The Essential mattress is 25cm thick, regardless of its dimensions.

All sizes:

mattress 140x190 = 26.1kg
mattress 160x200 = 32kg
mattress 90x190 = 18.5kg
mattress 180x200 = 35.3kg

The weight indicates mattress + packaging.

Some indications for choosing the size of a mattress according to the morphology, whether for one or two people:

- A 90x190 mattress is suitable for 1 standard person. A taller sleeper can opt for a 90x200 mattress with a longer surface.

- A 140x190 mattress is suitable for 2 standard people. Sleepers wishing to have more space during their sleep can opt for a 160x200 mattress or even a 180x200 mattress .
How do I maintain my mattress?

L'Essentiel is a pocket spring mattress , so it is not removable or washable. Remember to protect it well with the help of a mattress topper or a fitted sheet raincoat.
How many years is it guaranteed?

With the purchase of your Bdreams® mattress , you automatically benefit from a 10-year commercial guarantee covering any material or manufacturing defect, such as abnormal deformation of the foam.

This warranty takes effect from the date of delivery.

The products sold are also covered by a commercial guarantee aimed at guaranteeing their conformity and ensuring the reimbursement of the purchase price, the replacement or repair of the goods. It does not cover defects caused by abnormal or faulty use or resulting from a cause unrelated to the intrinsic qualities of the products.

For more information, go to the general conditions of sale .
How does the return go if it does not suit me during the trial?

We offer you the opportunity to try the mattress for 100 nights from the date of delivery. If the mattress still does not suit you after 100 days, we offer you the return!

You will be refunded in full within 24/48 hours after receipt of the mattress in good condition.

Don't worry about anything and make the most of your mattress !

For more information, visit the FAQ page .
We combined the semi-firm Essential Mattress with the memory foam mattress topper and the mix is ​​just perfect! Deep sleep and no more nighttime awakenings, thank you Bdreams!!
Non-slip cover
Breathable thanks to its 3D fabric, it has an optimal grip on the bed base.
Pocket springs 18cm
Provides continuous firmness and ventilation of the mattress.
Support foam
The upper part of the springs to absorb the movements.
Tray quilted with a white stretch fabric
The 4cm high resilience foam provides a plump and flexible welcome.
Support foam
The base of the springs to absorb the movements.
This product is rated 5.0 of 5.0 stars.
It has received 3 reviews.
Matelas essentiel + cosmos
Je suis super satisfaite de BDREAMS
1 première commande parfaite livraison rapide un matelas et toute la literie de qualité un énorme plaisir d'avoir une literie de cette qualité accessible à tous
2 eme commande tout est encore parfait produits de qualité, emballé avec soins , service clients parfait qui nous accompagne dans nos choix un SAV irréprochable, une marque française
Le seule point négatif ON DEVIENT ACCROC vivement la 3 eme commande
merci à toute l'équipe. Bdrems
Nous vous remercions pour ce très bel avis ainsi que votre fidélité et confiance, à bientôt !
Matelas essentiel
J'ai vraiment très bien dormi. Il faut que cela dur.
Mon corps est heureux.
Merci.
Nous espérons que vous passez toujours de belles nuits avec nous !
Il a changé nos nuits
Nous avons combiné le Matelas Essentiel mi ferme au surmatelas mémoire de forme et le mix est juste parfait ! Un sommeil profond et plus de réveils nocturnes, merci Bdreams !!
Nous espérons que vous passez toujours de belles nuits avec nous !