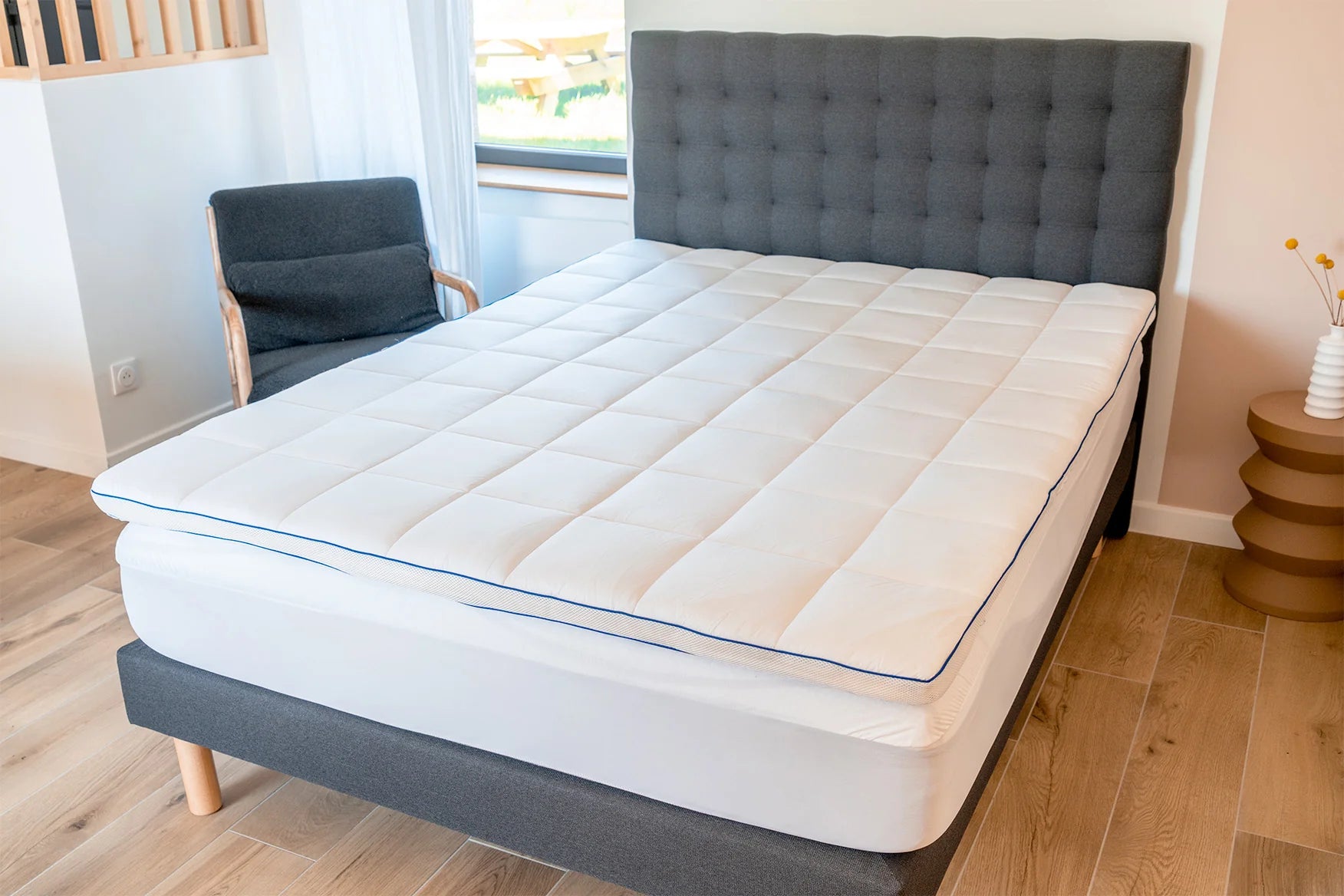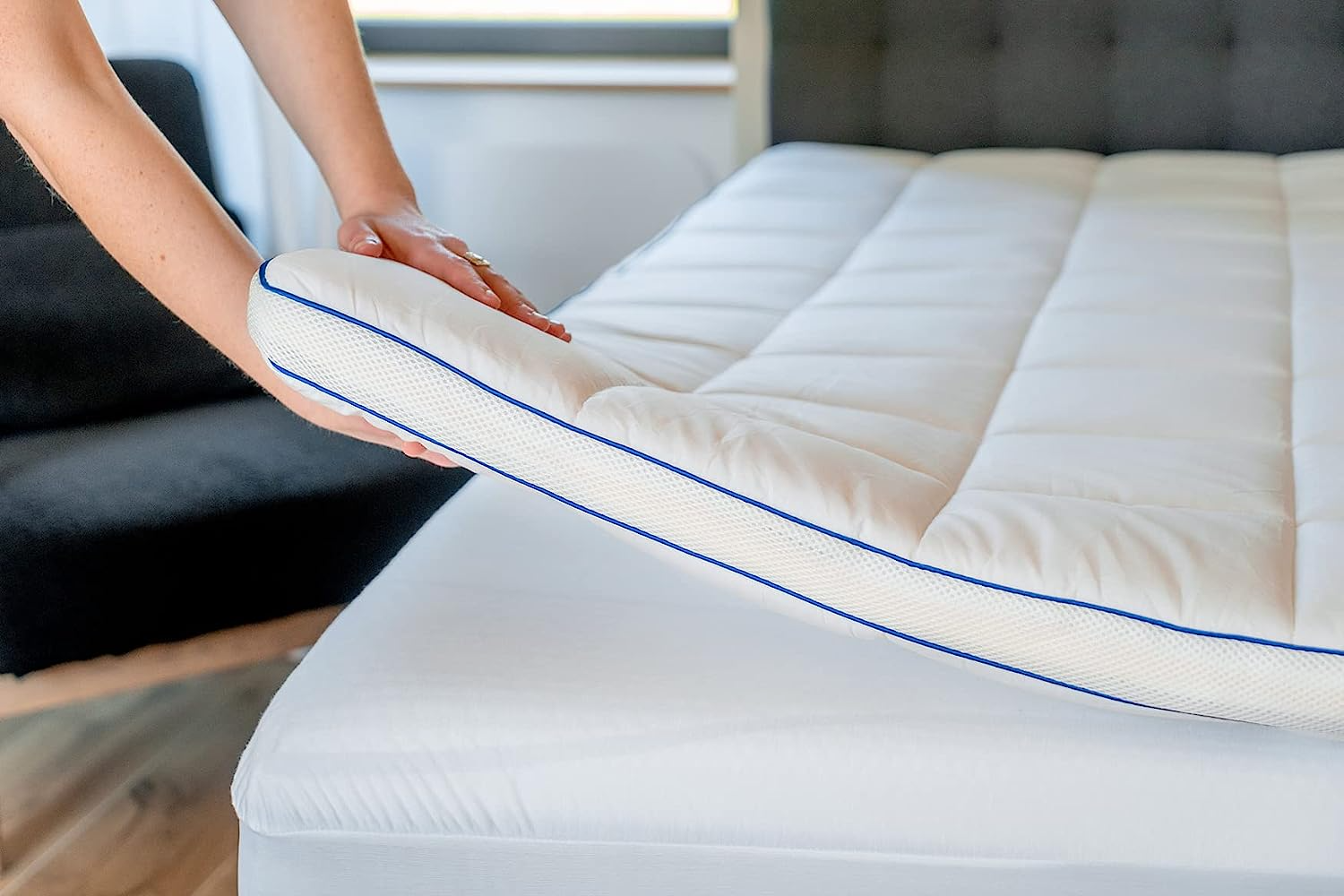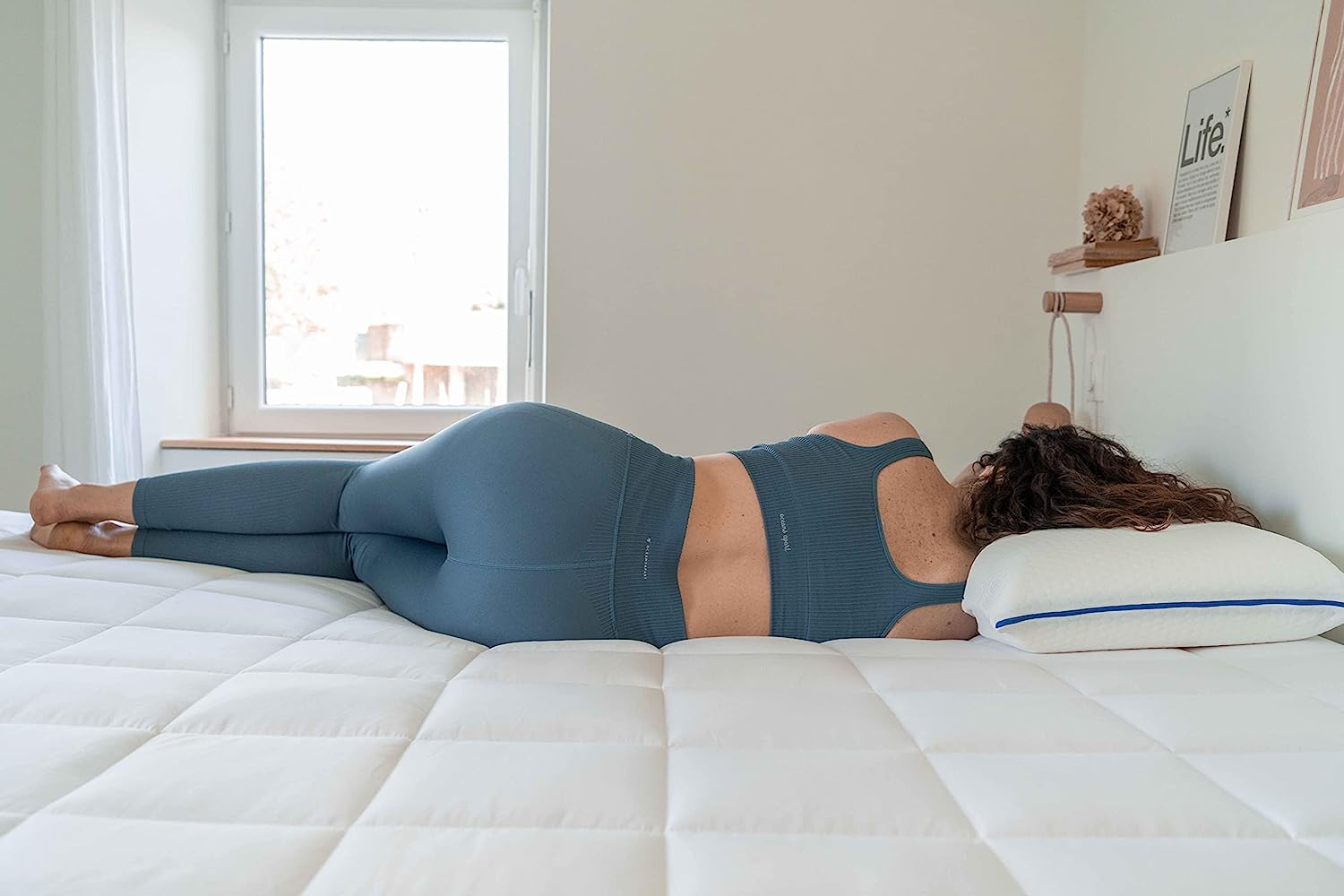 Memory foam mattress topper
The mattress topper made in France Memory offers restful and soft nights.


With a total thickness of 7 cm, it has an ultra soft 100% microfiber cover of 3 cm and 4 cm of memory foam that adapts to your morphology for light and enveloping support.


This mattress topper will be ideal for semi-firm to firm mattresses . Its cover is removable and machine washable for your convenience. Live the sweetness of each night!
Ideal for relieving pressure points for side sleepers!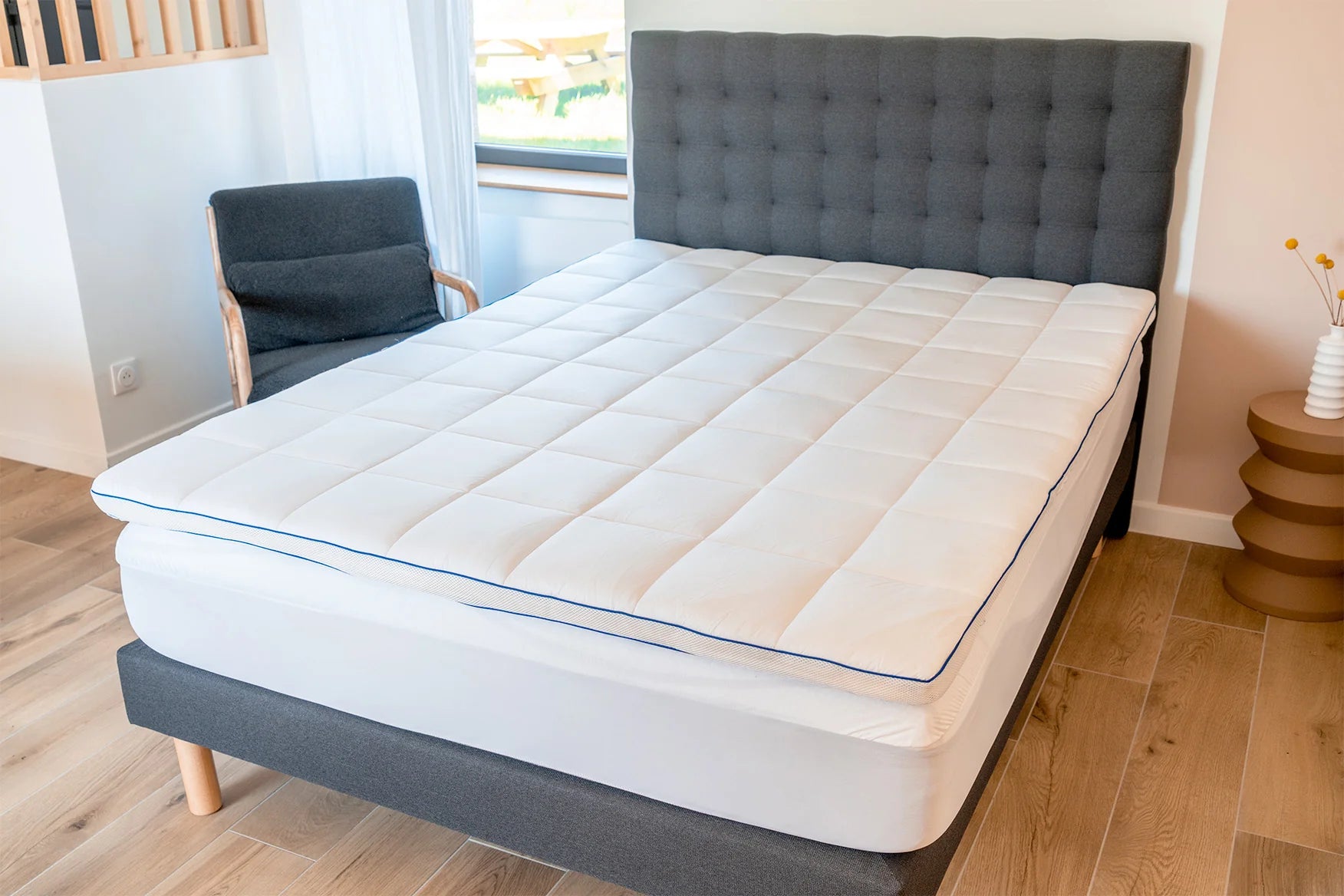 For further
The Memory mattress topper was designed by our team and designed in our workshop in Liffré (35). It completes our range of French-made mattress toppers, a range made up of mattress toppers that meet the needs and morphologies of each sleeper.
What is the composition of Memory?

The Memory mattress topper is made of a 100% cotton cover with microfiber filling (3cm thick) and a high quality memory foam core (4cm thick).

A 100% cotton envelope with 20X20 square quilting, incorporating cocooning microfibers. 3D inserts in the feet are sewn there for better breathability, closed by a zip to facilitate the removal and re-covering for washing the envelope.

The 4 cm inner core is a viscoelastic foam with a density of 45 kg/m3, with low resilience, sensitive to temperature and which better distributes the pressure of the body's weight.
Which mattress will it be best suited to?

Bdreams® mattress toppers are compatible with all types of mattresses as well as in all French standard dimensions.

Our advice: for the Memory mattress topper , prefer a mattress with semi-firm to firm comfort.
What are the dimensions and weight?

The memory foam mattress topper is 7cm thick, regardless of its dimensions.

All of our mattress toppers come with a carrying case.

Most common sizes:

Other sizes:

The weight indicates mattress topper + packaging.

Some indications for choosing the size of a mattress topper according to the morphology, whether for one or two people:

- A 90x190 mattress topper is suitable for 1 standard person. A taller sleeper can opt for a 90x200 mattress topper with a longer surface.

- A 140x190 mattress topper is suitable for 2 standard people. Sleepers wishing to have more space during their sleep can opt for a 160x200 mattress topper or even a 180x200 mattress topper .
How do I maintain my mattress topper?

Entirely removable, the cotton cover of the Memory Bdreams® mattress topper is machine washable, delicate cycle at 30°C.

Important: Remove the foam plate well before washing.

Our cotton envelope is lined with microfiber with a non-woven fabric to retain it, so drying must be done in the open air.

We recommend washing once or twice a year.

All of our mattress toppers come with a carrying case.
How many years is it guaranteed?

With the purchase of your Bdreams® mattress topper, you automatically benefit from a 2-year commercial guarantee covering any material or manufacturing defect, such as abnormal deformation of the foam.

This warranty takes effect from the date of delivery.

The products sold are also covered by a commercial guarantee aimed at guaranteeing their conformity and ensuring the reimbursement of the purchase price, the replacement or repair of the goods. It does not cover defects caused by abnormal or faulty use or resulting from a cause unrelated to the intrinsic qualities of the products.

For more information, go to the general conditions of sale.
How does the return go if it does not suit me during the trial?

We suggest that you be able to try out the mattress topper for 14 nights from the date of delivery.

If the mattress topper still does not suit you after 14 days, we offer you the return!

You will be refunded in full within 24/48 hours after receipt of the product in good general condition.

Don't worry about anything and make the most of your mattress topper!

For more information, see the general conditions of sale .
Besoin d'une enveloppe ?
Vous possédez déjà un surmatelas Bdreams, la mousse est intacte mais vous souhaitez remplacer la housse usée ? Désormais nous vous proposons la housse microfibre Bdreams à l'achat.
Faire une demande
This mattress topper literally changes my comfort. My sofa bed being really uncomfortable, the mattress allows me a much better sleep.
My wife complained that our mattress was too firm. The addition of the BDreams Memory mattress topper has radically changed its perception. Also, fast shipping. French company, moreover, highly recommended.
Ordered Thursday 3 p.m., delivered Friday 8:30 a.m.! And really a product that solved my back pain problems, when I had already changed the bed base and mattress without success. I live again!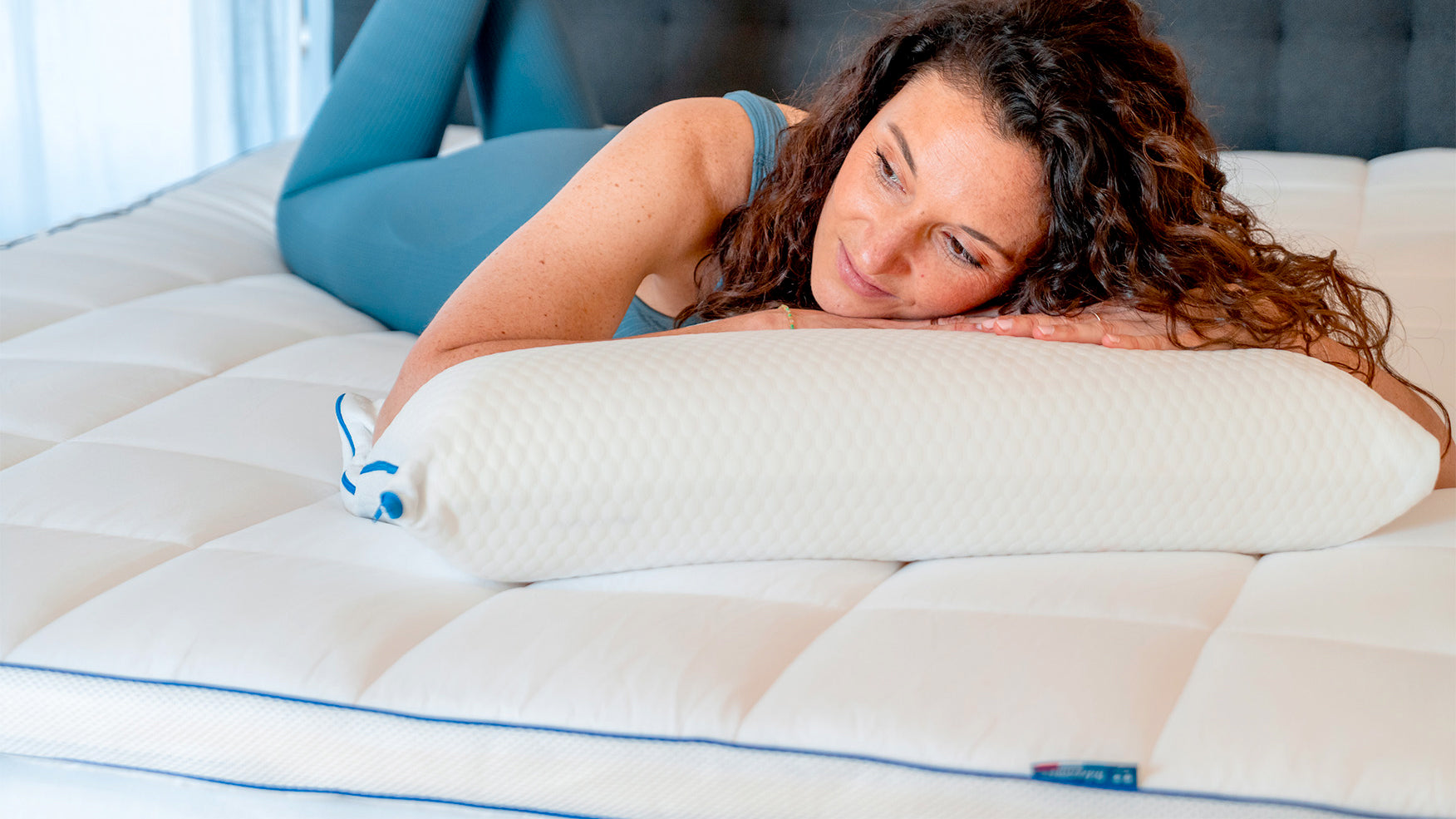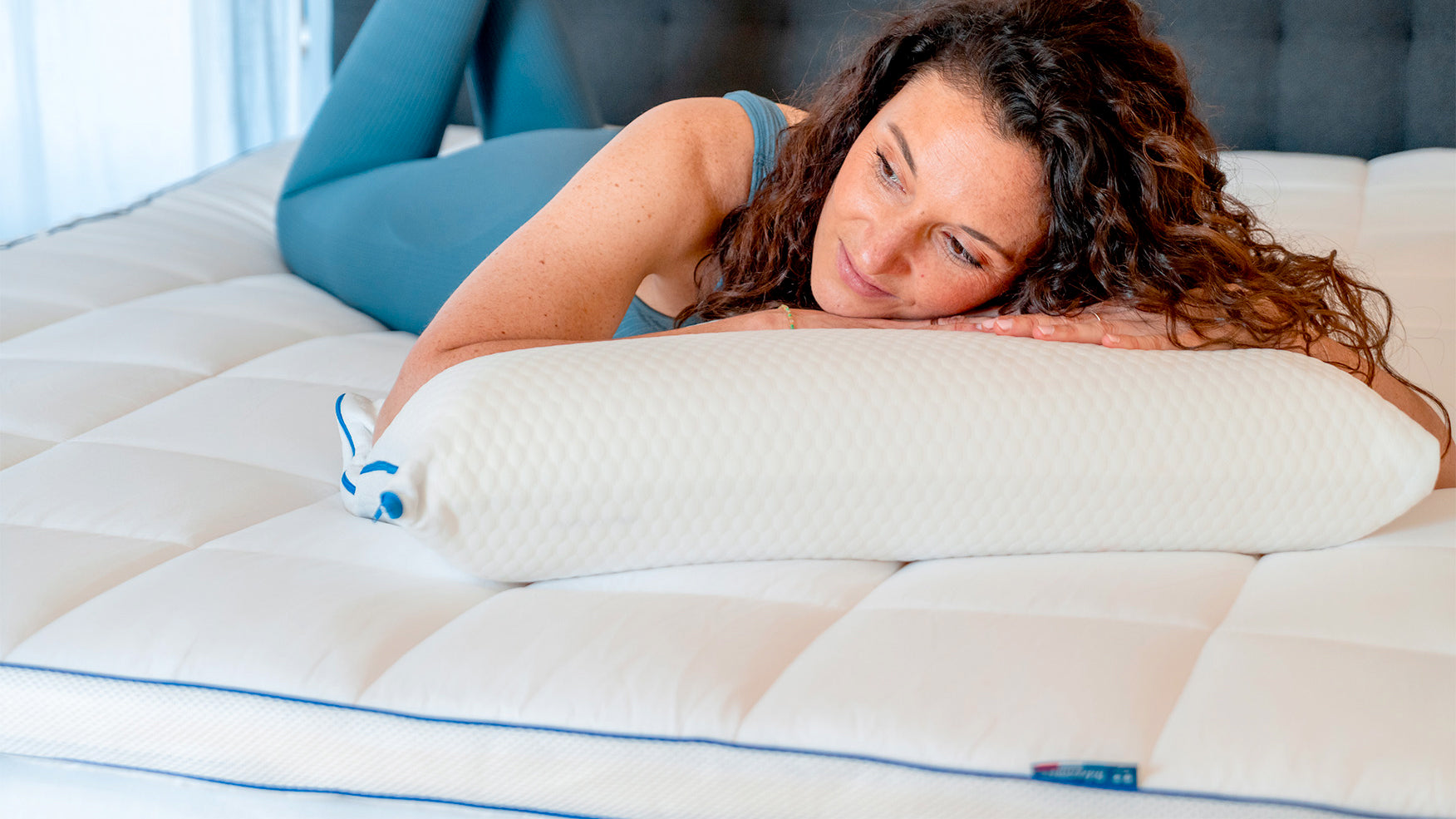 3cm 100% cotton envelope
Envelope stuffed with microfiber for a soft welcome. OEKO-TEX certified without harmful products.
3D fabric
The cover is made up of a 3D fabric which allows continuous ventilation of the foam and a zip which allows full removal of the cover.
4cm memory foam
Enveloping it reduces the pressure of the weight of the body.
Nothing is left to chance
This product is rated 4.9 of 5.0 stars.
It has received 114 reviews.
Le rêve
J'ai retrouvé des nuits douces et paisibles grâce au surmatelas mémoire de forme memory ! C'est comme dans un rêve, mon lit est devenu le paradis. Livraison super rapide, qualité française parfaite.
Surmatelas Memory 180x200
Mon épouse a de gros problèmes de dos nous cherchions une solution, nous l'avons trouvée chez Bdreams, le service client a pris beaucoup de temps pour répondre à notre problème, la solution est impeccable le surmatelas Memory, hyper confort. Livraison en 48h le top. Je vais faire savoir autour de moi. Merci à l'équipe et continuez à créer de bons produits français qui viennent de France.
Je recommande vivement.
Conforme à nos attentes. Livraison ultra rapide
Très satisfait
Je recommande aux personnes qui ont un matelas trop dur
surmatelas memory
Très bon accueil téléphonique et très bons conseils du vendeur qui a su répondre à ma demande et à mes hésitations. Agréable sensation au coucher et plus de points douloureux au réveil, merci Bdreams !
Commande surmatelas
Commande arrivée très rapidement. Dommage qu'il n'y ait plus la housse de rangement comme dans mon achat précédent et que le surmatelas soit trop comprimé...
Surmatelas memory c edt top.
Commande et livraison également. Rapide.
Surmatelas très confortable
Très satisfaite de mon achat. Livraison très rapide. Réactivité. Produit bien emballé.
Second achat d'un surmatelas
Satisfaite d'un premier achat du surmatelas Memory j'ai renouvelé l'expérience, livraison gratuite et ultra rapide.