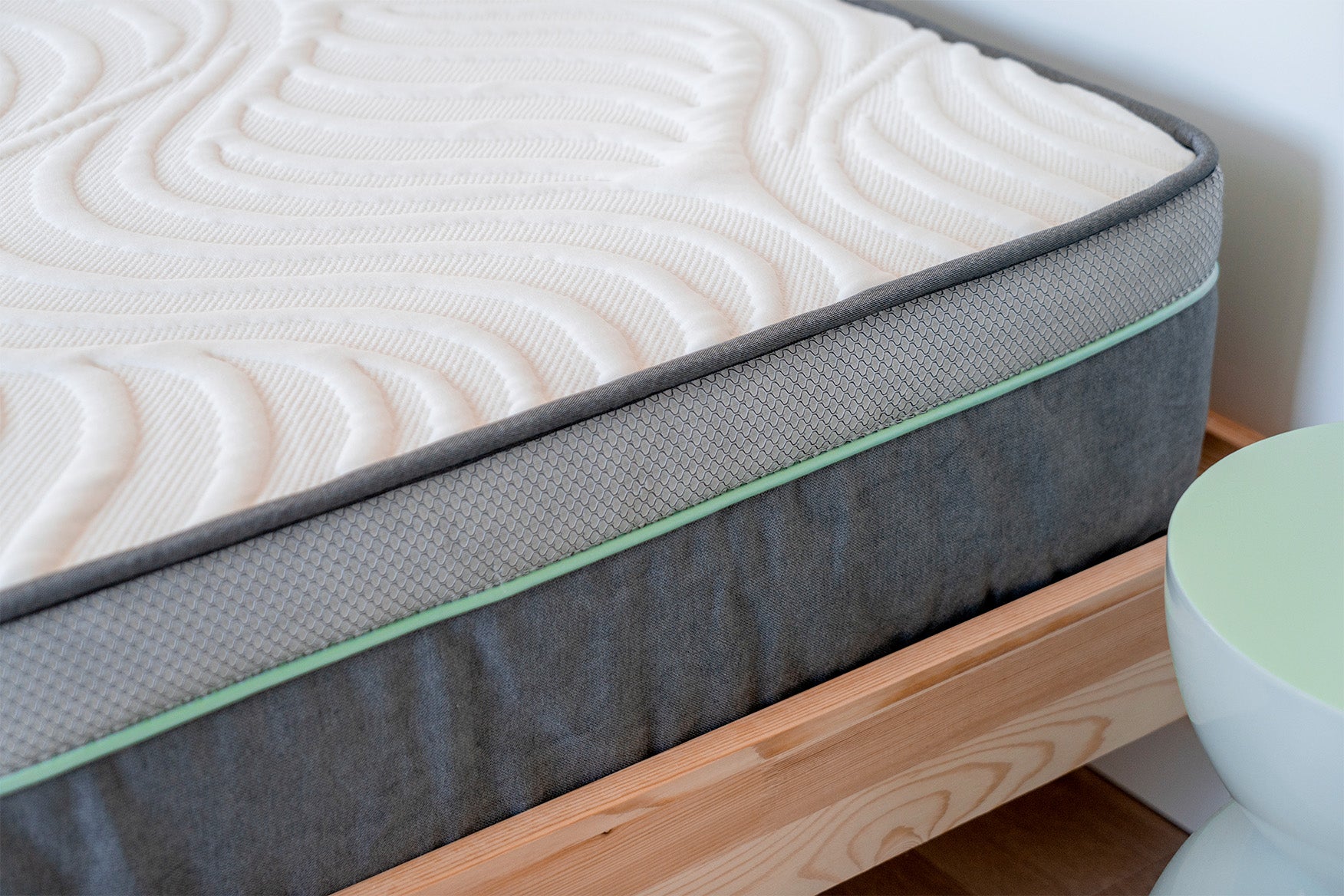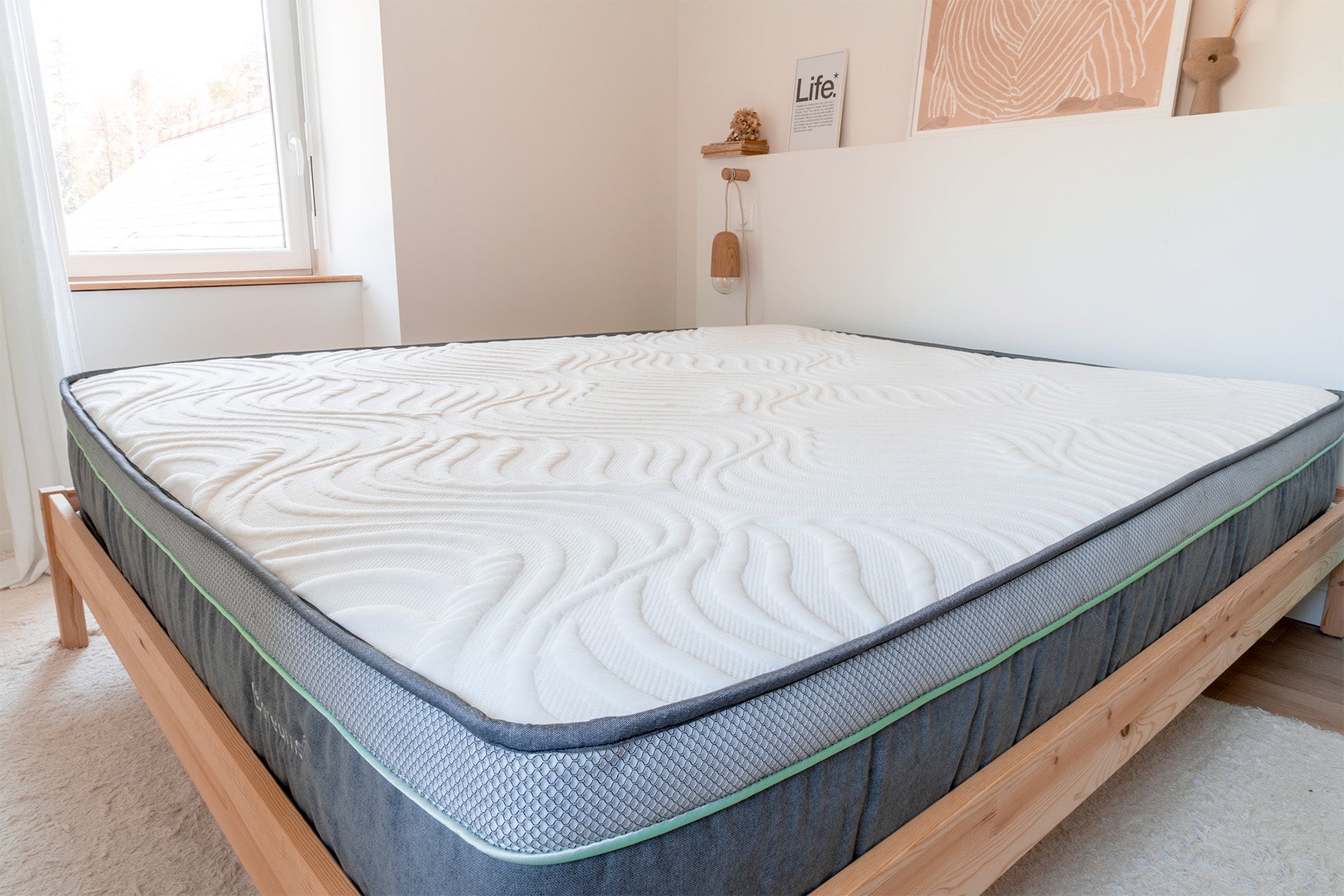 Cosmos hybrid mattress
Balanced comfort between softness and firmness
Our premium hybrid mattress!

An ultra-soft stretch canvas fabric covers the composition of the Cosmos to give it a veil of softness from the first contact. Top layers of foam provide a plush, supple feel for pressure point relief throughout your sleep. Its hybrid profile gives it great sleeping independence , you can adapt the sleeping position of your choice without disturbing your partner. The pocket spring base offers firm support and optimal air circulation for good hygiene of your bedding. A very light bounce lulls your body into a deep, restorative sleep.


A mattress made up of two technologies for better nights of sleep!

Complete the cocooning side of the hybrid with the Douceur pillow and sleep on a cloud.

For further
The Cosmos mattress was designed by our team and designed in Spain with our long-standing partner manufacturer. It completes our range of mattresses, a reduced range made up of mattresses that meet the needs and morphologies of each sleeper.
What is the composition of the Cosmos?

The Cosmos mattress is made of an ultra-soft fleece-lined stretch fabric, then two layers of high-quality comfort foam, and a core of 775 pocket springs (160x200 model) for a total thickness of 27cm.

The reception of the Cosmos mattress consists of two foams:

With a total thickness of 6cm, it is made of 2cm viscoelastic foam (shape memory) and 4cm of high resilience flexible polyurethane foam with a density of 25kg/m3.

Its 18cm high pocket spring core is made up of high-strength steel springs, the shape of the springs provides progressive comfort, for excellent support. The edges are reinforced for a stable footing.

On the central part of the mattress, the 3D fabric is there to provide better breathability of the foam. The lower part of the mattress is made of an ultra-breathable fabric for continuous ventilation, it is also effective for a good grip on the bed base.
Which bed base does it fit?

The box spring is an important element for your mattress.

Its primary purpose is to ventilate and maintain your mattress. Ventilation is essential for better breathability of your bedding so it preserves your mattress. A box spring is an important element to maintain your bedding and will allow a better life of your mattress.

There are different types of box springs:

The slatted frame (the least expensive) metal frame with wooden slats.
The box spring (the most popular) in wood (beech or fir) more solid with thick slats. Covered with a fabric of the customer's choice, it also incorporates a gripping surface for the mattress and a non-woven fabric (bonded fibres) so that dust cannot enter the bed base.
The spring bed base and the electric bed base, both specific in their uses.

The lifespan of a box spring is on average 10 years, so it is important to check its condition when buying a new mattress.

Thanks to their thickness, Bdreams® mattresses naturally benefit from support, so they adapt to all types of bed bases. (Prefer the box spring).
What are the dimensions and weight?

The Cosmos mattress is 27cm thick, regardless of its dimensions.

All sizes:

mattress 140x190 = 30 kg
mattress 160x200 = 35.5 kg
mattress 140x200
mattress 180x200

The weight indicates mattress + packaging.

Some indications for choosing the size of a mattress according to the morphology, whether for one or two people:

- A 90x190 mattress is suitable for 1 standard person. A taller sleeper can opt for a 90x200 mattress with a longer surface.

- A 140x190 mattress is suitable for 2 standard people. Sleepers wishing to have more space during their sleep can opt for a 160x200 mattress or even a 180x200 mattress .
How do I maintain my mattress?

The Cosmos is a pocket spring mattress , so it is not removable or washable. Remember to protect it well with the help of a mattress topper or a waterproof fitted sheet .
How many years is it guaranteed?

With the purchase of your Bdreams® mattress , you automatically benefit from a 10-year commercial guarantee covering any material or manufacturing defect, such as abnormal deformation of the foam or springs.

This warranty takes effect from the date of delivery.

The products sold are also covered by a commercial guarantee aimed at guaranteeing their conformity and ensuring the reimbursement of the purchase price, the replacement or repair of the goods. It does not cover defects caused by abnormal or faulty use or resulting from a cause unrelated to the intrinsic qualities of the products.

For more information, see the general conditions of sale .
How does the return go if it does not suit me during the trial?

We offer you the opportunity to try the mattress for 100 nights from the date of delivery. If the mattress still does not suit you after 100 days, we offer you the return!

You will be refunded in full within 24/48 hours after receipt of the mattress in good condition.

Don't worry about anything and make the most of your mattress !

For more information, visit the FAQ page .
Exceptionally comfortable mattress that allowed us to find an incomparable quality of sleep. The support is pleasant and no back problem when you wake up. I highly recommend this mattress.
The Cosmos mattress really meets all my expectations, it is really comfortable and it provides the perfect combination of softness and firmness!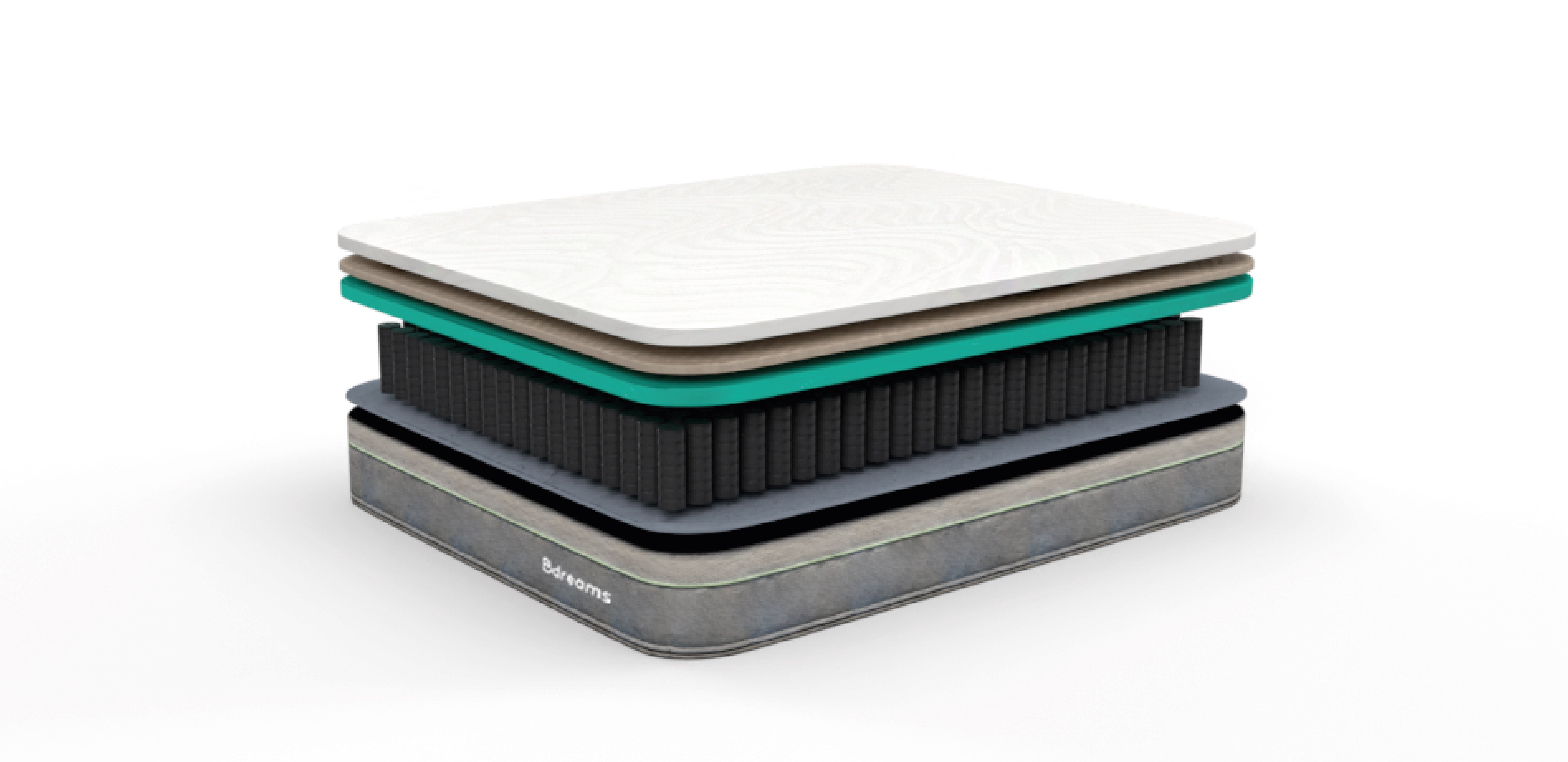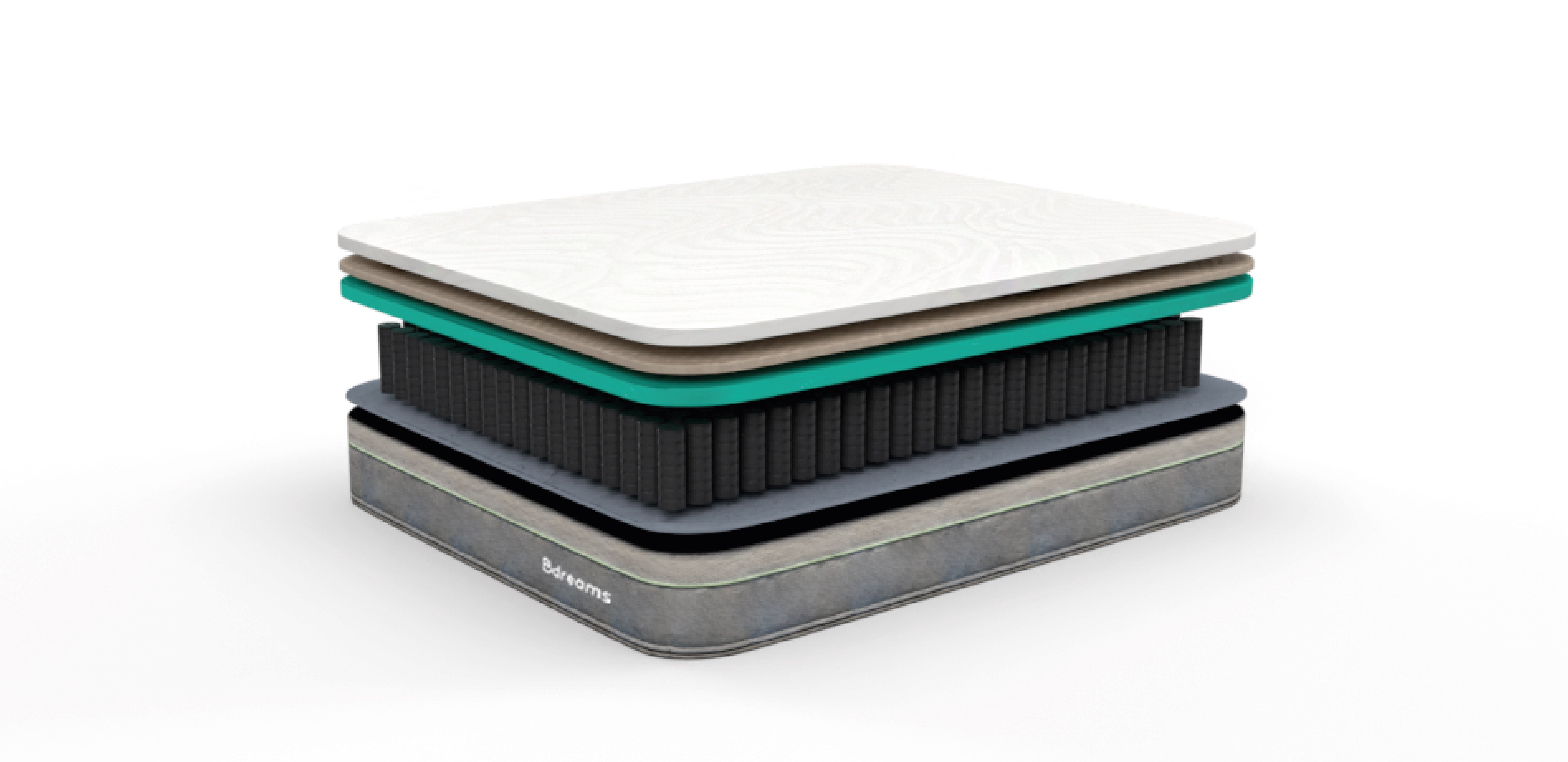 2cm memory foam
An ergonomic welcome that absorbs body pressure.
Taut canvas stretch fabric
An ultra soft 2cm fabric certified OEKO TEX.
4cm high resilience polyurethane foam
Soft and fluffy like a cloud.
18cm high resistance pocket springs
A firm support block for better air circulation.
1cm support foam
The base of the springs to absorb the movements.
This product is rated 5.0 of 5.0 stars.
It has received 5 reviews.
Parfait
Matelas de très bonne qualité et service parfait
Parfait !
Première fois je me suis trompé dans les mesures Bdreams a été très conciliant et 2eme matelas parfait
Avec plaisir, merci pour votre avis !
Au-delà de mes rêves
Le matelas Cosmos correspond vraiment à toutes mes attentes, il est vraiment confortable et il apporte la parfaite alliance entre moelleux et fermeté !
Merci beaucoup pour ce très bel avis, en espérant qu'il vous convienne toujours autant ! A bientôt !
Super matelas
On es satisfait du matelas avec ma femme par contre c est regrettable on a connu votre marque grâce à la page de Rio and co sur Instagram et on a vu que vous avais mis un code promo dommage je n est pas pu l utiliser à temp
Merci pour votre avis, en espérant qu'il vous convienne toujours autant ! A bientôt !
Confort exceptionnel de grande qualité
Matelas d un confort exceptionnel qui nous a permis de retrouver une qualité de sommeil incomparable.
Le maintien est agréable et pas de problème de dos au réveil.
Je recommande vivement ce matelas
Merci pour votre avis sur notre tout nouveau matelas hybride !